Welcome to Cleveland Screw Products
We handle a project from prototype to high production.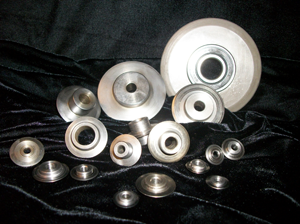 Our delivery is the fastest in the business if needed. Try Us.
We offer engineering services FREE. We can make your parts from a print or sample, and we gladly offer material and deisign suggestions for cost savings and product improvement.
Our quality systems are modern and effective.
Our manual is in compliance with the following.
mil-1-45208A
mil-std-45662A
mil-std-105
ISO 9002

We manufacture quality custom automatic screw machine products
We have been in this business since 1914. Our multiple spindle machines can handle round and hex bar stock from 1/4 inches to 3 1/2 diameter. Our single spindle bar machines can accommodate up to 4 5/8 inch diameter. We work with all types of steel, stainless steel and aluminum. We specialize in tough cutting alloys. We also perform a complete range of secondary operations held to close tolerances.