Cutter Wheels
We are famous for our tube and pipe cutter wheels. We are the OEM for several tool manufacturers, and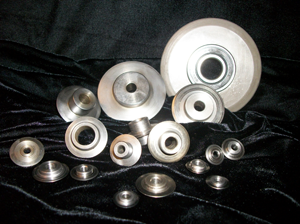 we make replacement wheels for Ridge Tools, Reed Manufacturing and others.
All of our cutter wheels are roller finished at the cutting edge. This creates the finest blade shapes and refines the grain structure of the steel to make our wheels stronger. We are the only company to do it this way. Our wheels have been tested and proven better than any other.
Our products can be found in D.I.Y., Lowes, Sears, and all True Value stores. Tradesmen use our products all over the world.